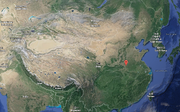 The East Twenty Million mission
was a Chinese expedition to
Earth East 20,000,000
, taken by the
twains
Zheng He
and
Liu Yang
. It was launched from
Datum
Xiangcheng, Henan province. The project was run by the China National Space Administration.
[1]
Chen Zhong was the captain of the Zheng He, and Wu Yue-Sai and Bill Feng were both crew members.
Roberta Golding and Jacques Montecute also both took part in the mission as a gesture of good faith between the Datum US government and the new Federated Republic of China.[2]
During their journey, they discovered, among many other things, another Gap on Earth East 2,217,643 [3] and a tortoise civilization on Earth East 8,616,289.[4]
The target world of Earth East 20,000,000 was reached by the twains on July 6, 2040. There, they built a stone cairn with a plaque and turned back.[5]
References
↑

The Long War - Chapter 17

↑

The Long War - Chapter 9

↑

The Long War - Chapter 41

↑

The Long War - Chapter 53

↑

The Long War - Chapter 57
Ad blocker interference detected!
Wikia is a free-to-use site that makes money from advertising. We have a modified experience for viewers using ad blockers

Wikia is not accessible if you've made further modifications. Remove the custom ad blocker rule(s) and the page will load as expected.