This tutorial will teach you how to change the sorting of a page.
Initial problem
Let's say you want your pages neatly sorted by alphabetical and numerical order but for some reason wikia doesn't do it because of a numering problem.
On figure 1, we would like Madison West 5 to appear before Madison West 10.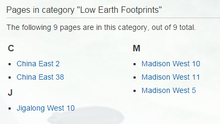 Changing the sorting
To change the sorting with the "new editor" (as opposed to the classical one), open the Categories section just like in figure 2.

Then enter the text you want wikia to use for the default sorting just like in figure 3.
With the classical editor
With the classical editor, in source mode, the modification we've made looks like this :
Result
After saving all the modifications, here is the final result.
As you can see, Madison West 5 is now located before Madison West 10.
Ad blocker interference detected!
Wikia is a free-to-use site that makes money from advertising. We have a modified experience for viewers using ad blockers

Wikia is not accessible if you've made further modifications. Remove the custom ad blocker rule(s) and the page will load as expected.